At Shiva Global Agro Industries we are poised for growth through operational excellence, prudent business and financial practices and unique agro-marketing outreach program. Over the years, our products and solutions have helped us to lay the foundation for sustainable and inclusive agriculture growth in Indian farming.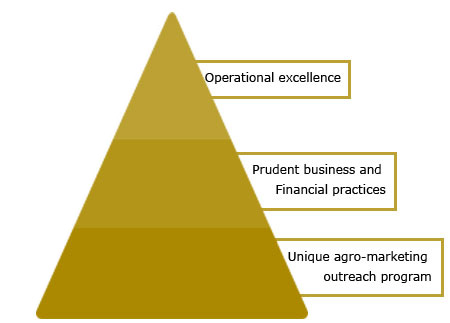 We have adopted a well-grounded, robust distribution strategy by appointing distributors who are attuned to local sensibilities and have a well-knit network to reach out to farmers. Our dedicated team of marketing and sales personnel regularly provides support for education and training to distributors and end-users of our products.
One of the key operational thrusts is to increase our distribution network to ensure better penetration of our products. As an ongoing business practice, we identify segments that reap greater than expected returns, and a large portion of the revenue from that segment is deployed to enhance marketing-and-distribution reach, which in turn increases volumes.
Our premium-quality products are well-accepted in the market, enabling us to rapidly expand our geographical reach as well as our product line. Currently, our network is spread across 10 Indian states and we are looking forward to aggressively increase this reach in the future.